TubeFlow PIC
One-Stop Modeling Solution - Wellbore Production, Intervention, and Completion Software
---
TubeFlow PIC is a transient flow simulator that can be used to model well production, intervention, and completion operations with coiled tubing, wireline, and drill string.

TubeFlow PIC 7.0
One-Stop Software Solution for Wellbore Production, Intervention, and Completion
Evaluate Now
Product Overview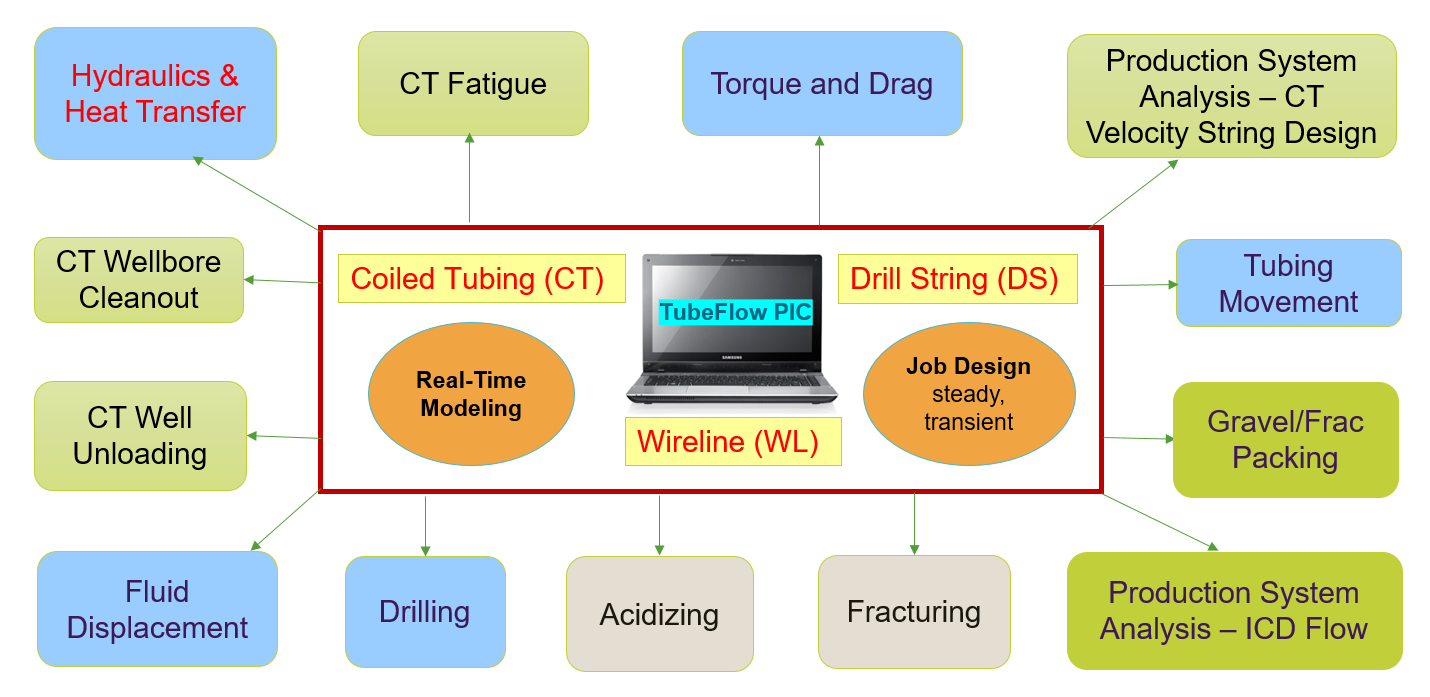 Software Suites
Configurations and Fluid Systems
Wellbore and Intervening Tubing Configuration
TubeFlow PIC provides a database of standard pipe sizes to configure well tubulars, capillary string, coiled tubing, wireline, and drill string.
Well module - complex well configurations
Pipe module - coiled tubing, drill string, wireline, and BHA configurations
survey import/export
Fluid Systems
In TubeFlow PIC, a list of pre-configured fluids that commonly flow in wellbores is provided for convenience and ease of use. Moreover, flexibility exists to create user-defined fluids for use in a particular project. Fluid systems that can be modeled include, but are not limited to:
fresh water, produced water, seawater, steam
acid, single and multiple salt brine
black oil, gas mixtures
diesel, kerosene
foam, emulsion
Features
easy-to-use, quick calculations, sensitivity analysis
project configuration includes import/export/email features
English, SI, customizable units
non-Newtonian and multiphase flow modeling with heat transfer
multicomponent modeling and PVT properties through seamless integration with Fluid Properties utility
graphical capabilities include save and compare options
reporting includes printing to HTML and exporting data to MS Excel
Information
A full featured evaluation version is available for 15 days. Please contact us for more information.
Evaluate Now
Contact Us